Minister Popovic playing solo (not) allowed
Miljana Miletić, July 30, 2019
Nenad Popovic exhibited public digression from the official Government politics several months ago when he stated that he did not "know what demarcation means", but that he knew "Serbian folks are against any kind of division of Kosovo". Last year Minister without portfolio had discriminatory comments against LGBT population when the Prime Minister said that because of him she, in her own words, had "the worst day ever as head of the Government".
We can again hear dissonant tones between Minister Nenad Popovic and Prime Minister Ana Brnabic. Namely, the President of Serbian People's Party and Minister without portfolio in charge of innovation Nenad Popovic assessed that Brussels Agreement was dead and that Serbia should, whenever it can, dispute the false sovereignty of Kosovo. The Prime Minister reacted underlining that Popovic expressed an attitude directly opposite from the Government position. She recalled that as the Minister without portfolio in Government of Serbia he was neither in charge of the Brussels Agreement and its assessments nor the European integration.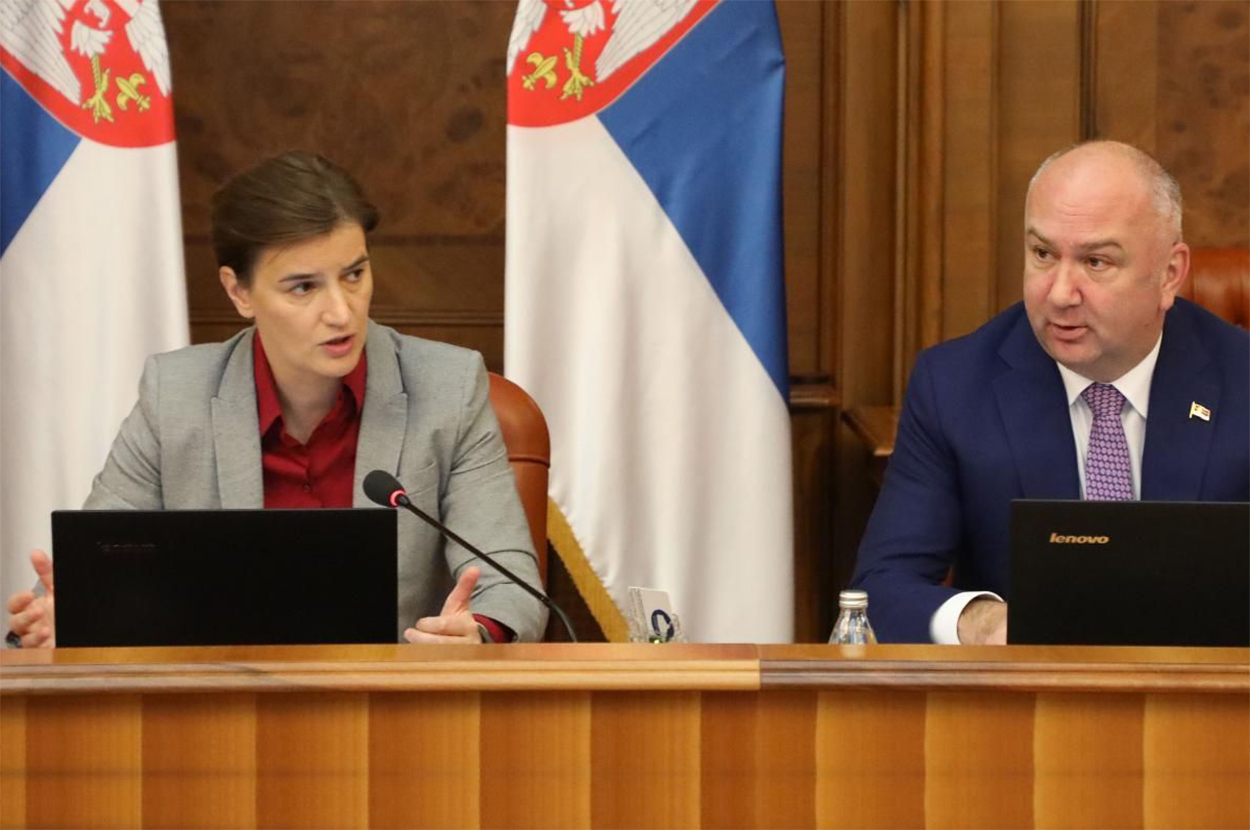 "He can give these statements as the President of his party, but not on behalf of the Government. Every minister in the government is obliged to implement the jointly agreed politics, and those not capable of doing that are at liberty to leave the government", said the Prime Minister.
President of Serbia Aleksandar Vucic supported her by saying that Popovic as the government member had no business to give assessments on the Brussels Agreement and European integration and that he hoped this "verbal conflict" would be solved through conversation. However, Nenad Canak, the leader of League of Social Democrats of Vojvodina, and Cedomir Jovanovic, the leader of Liberaldemocratic Party, demanded Popovic should be removed from office.
Members of Serbian People's Party reacted mentioning that Canak and Jovanovic were working on "destroying Serbia and everything Serbian" and added that it would be fine if he was removed from office, but only if "citizens are informed that he was removed from office since he advocated the respect of Constitution and the Resolution 1244 as regards Kosovo", and also "because he was not willing to break an oath as he had sworn on the Constitution, as well as other ministers, that entire Kosovo is Serbia".
First time ever have I heard of demarcation
However, it was not the first time Minister Popovic made his position similar to this. In May he stated he did "not know what demarcation means", but that he knew "Serbian folks are against any division of Kosovo". For TV Prva he said that no member of the government ever spoke about demarcation, that President of Serbia Aleksandar Vucic headed negotiations and that he did that "brilliantly". He said that Brussels negotiations had failed and that Brussels does not have the strength to solve Kosovo issue, yet that USA, Russia and China have to get involved.
"You do not have any counterparts on the Albanian side. Serbia gave everything in Brussels negotiations but got nothing, and the negotiations failed", said Popovic.
In February he reacted to the statement of Minister of Foreign Affairs Ivica Dacic that demarcation is the official proposal from Belgrade.
"Unique government politics as regards Kosovo is to reach a compromise with Albanians in the framework of the Serbian Constitution and the UNSC Resolution1244. No other politics, besides reaching a compromise in the framework of Serbian Constitution and the UNSC Resolution 1244 was ever established by the government. I am in favour of that politics, and I took an oath as the minister that I will guard Kosovo as an integral part of the Serbian territory", stated Popovic for "Sputnjik".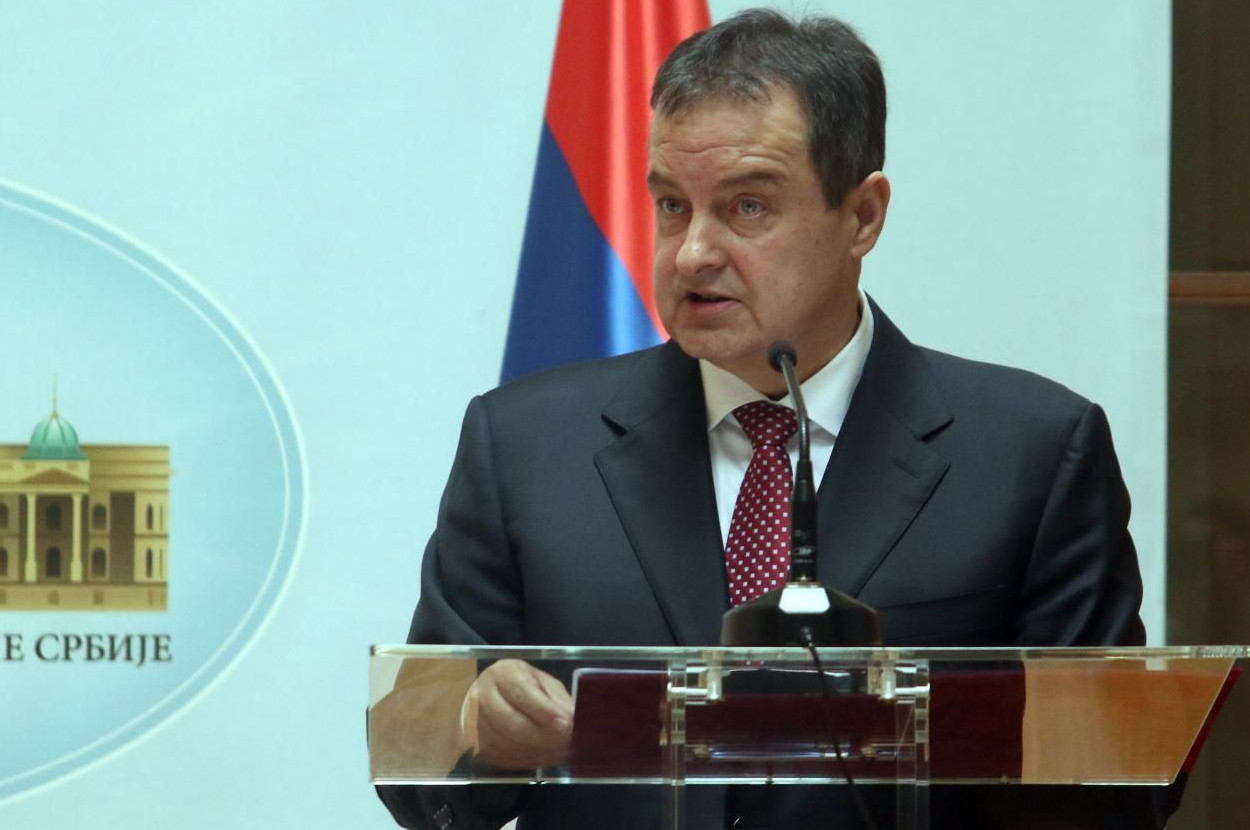 Photo: FoNet/Ognjen StevanovicDacic send him a message saying that he will ask him at the Government session why is he sitting in the government "if he disagrees with Vucic's proposal", saying that Vucic mentioned demarcation idea before as well. Popovic ended this debate by saying that he would only talk with President Aleksandar Vucic about his work in the Government, as he had negotiated with him on joining the government.
"Dacic has no say about that, I did not negotiate with him when I joined the Government and I will talk with President as he is the only one entitled to decide on that", said Popovic for RTS.
He reiterated that it is good Dacic had corrected his statement that demarcation was the official government politics as regards Kosovo.
"No government authority ever established that", said Popovic and added that he exclusively advocated the respect of Constitution and Preamble which says that entire Kosovo is Serbia. He emphasised that Kosovo solution should be a compromise, meaning that Kosovo should get "the greatest autonomy in the world ever".
Gay picture book and "traditional values"
In May last year, Minister Popovic made an announcement on Twitter provoking a strong reaction of LFBT community, and the Prime Minister Brnabic assessed that was the hardest day she had ever since she became the head of the Government. Popovic wrote: "At the moment when we as a country are fighting with all means available to support birth rate, they are importing gay picture books from Croatia! That should be put to an end immediately! We have to prevent those who want to convince us that it is okay if 'Roko has two mums, and Anna has two dads'".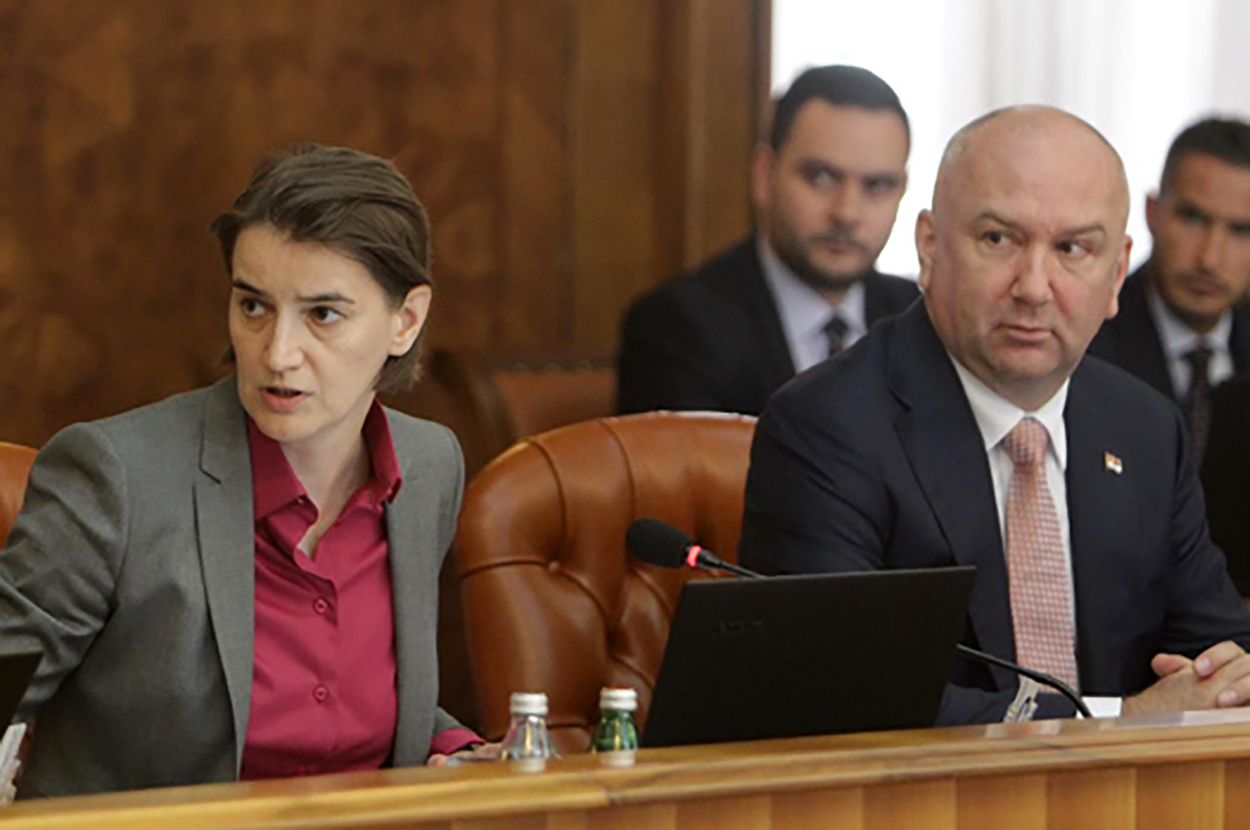 Popovic stated that in his comment he expressed a position "of a parent and a citizen of Serbia" for whom "traditional values come first" and estimated that his text was not a call for violence. The Prime Minister said that she did not want to react immediately after seeing the tweet because she wanted first to cool her head.
"I will speak with the Minister in private, to try to understand his statement, but I think that Minister Popovic confused all topics", said Brnabic. She said that she wanted to end the discussion regarding the topics of homosexuality and birth rate once for all.
"There is no cause-effect link between those things. Gay people also have a reproductive system. So no minister and no government in the world can determine if gay people would have children or not. They will neither determine that nor control it", stated Brnabic. She said that she would ask the Minister Slavica Djukic Dejanovic "to individually explain to the minister that birth rate has nothing to do with a person being gay or not". 
In the Opinion that the Commissioner for Protection of Equality adopted on the complaint of LGBT organisations that Popovic had discriminated the LGBT population and he was ordered that no later than 15 days upon the receipt of the Opinion he would send a letter of apology to the LGBT population, and that in future he would refrain from giving statements, disseminating ideas and opinions that belittle the members of LGBT population and reinforce the prejudice against marginalised social groups.
In his announcement, Popovic raised a concern about the intentions of the Commissioner, who adopted the recommendation after, as he said, "she had been sleeping for four months" before Belgrade Pride on 16 September. He stated that he did not want to accept the recommendation and apologise to the LGBT community, as he believed he did not violate any law and did not offend anyone.
"I would like to send a message that I will firmly stick to my beliefs shared by the majority of citizens of Serbia with me and that I will consistently advocate that in Serbia we would never allow that 'Roko has two mums and Anna has two dads'", said Popovic.