Political Turncoats: Superficial Switch or True Change of Heart?
Crta Team, December 27, 2019
A doctor changing political colors to gain a white-coat specialization for her city; councillors of a dying town swapping sides to support the president in "fighting for Serbia"; a local politician switching parties live on TV — these are some of the "turncoats" turning Serbian local politics inside out.
The phenomenon of political "turncoats" in Serbia is nothing new. However, party-switching used to happen far from the public eye, whereas conversions are now becoming more and more public  — not least because they provide parties with an excuse for a press conference — and are bringing local politics into disrepute, according to the Centre for Research, Transparency and Accountability (CRTA).
According to CRTA's analysis — based on surveys of individual councillors and the political composition of local and regional assemblies since the 2016 elections — the trend has been growing over the past few years. CRTA now makes the results available in the Who is my Government portal.
What does this mean in practice? The most controversial examples are in the municipalities of Zajecar and Brus, where the Serbian Progressive Party (SNS) had ended up in opposition after the elections. However, when the councillors of the governing party changed their allegiance to SNS, they effectively flipped the SNS from opposition into power.
We also had several examples of councillors who were open about switching from opposition parties to the ruling party, and some have even confessed to non-political motives. 
A particularly high-profile case was that of For a More Progressive Cacak councillor, Dr Tanja Stovrag, who publicly admitted at the end of November 2018 that she had switched to the SNS in order to be able to gain a specialization in gastroenterology.  
For a More Progressive Cacak reacted by announcing in December 2018 that it would file a criminal complaint against Dr Stovrag, as well as against the authorities at Cacak Hospital, citing "potential corruption".    
Councillor Stovrag's statement, that she had switched to the ruling party for the sake of her specialization, drew harsh criticism from opposition parties and citizens, who posted negative comments on local information portals.
But she insisted, "The City needs this specialization. Without it, citizens suffer and have to travel to Kraljevo [for treatment]. This is a problem for Cacak, but I've solved the problem for both the citizens and for myself. I think this is the most honorable transfer ever in politics: no directorships for me, nor jobs for my family or relatives… I didn't ask for any of that. I might not have asked for this either, if I could have taken my political group's opposition activity seriously."
In another "public spirited" turncoat case, the entire Democratic Party of Serbia (DSS) party committee in Gadzin Han municipality – 350 members – switched to SNS in November 2018.
"We are aware that Zaplanje [Region] is dying quickly. Now that we are united, we want to take this chance for our children to stay and live on in Zaplanje, for us to fight for Serbia on the local level, just as (President) Aleksandar Vucic is fighting for all of us (in Serbia)," explained Dragan Mijalkovic, the former president of the municipal DSS party committee, and a member of the national party's central committee and steering group.
Sometimes the conversion happens literally in the public eye. At the end of March 2016, the then chairman of the Socialist Party of Serbia party committee in Palilula [a municipality in Belgrade], signed up for rival party SNS, live on local television.
Milos Stojkovic was sitting in the studio with Boban Dzunic, who is chairman of Palilula municipality and an SNS official. Dzunic simply took an application form and pen out of his jacket and offered them to Stojkovic.
"Here is the application form, so demonstrate your loyalty to the prime minister, and to me as the representative of the Serbian Progressive Party," said Dzunic.
Nenad Borovic, a former member of Vojvodina's regional assembly, representing the Democratic Party (DS), who was excluded from the party in June, switched to Aleksandar Vucic's ruling SNS parliamentary group. Explaining his defection as disagreement with the politics of "the Democrats (DS)," claiming that his former party was "a safe haven for people who abused and destroyed it".
Borovic found his own political safe haven in the ruling party.
How Big is the Deception?
According to political analyst Boban Stojanovic, such cases are "a massive deception of citizens and voters", since it is as though "a whole list fought the election talking about one thing, mostly in opposition to — the party they ended up switching to."
"It seems to me that the only explanation is financial or political interests, because this has nothing to do with any really real reasons or wishes of individuals – whether on a manifesto level, on an ideological level, or, as a matter of fact, on any other level," Stojanovic told Istinomer.
As of 5 September 2019, 649 politicians, from 107 cities and municipalities throughout Serbia, have switched party, compared to 380 cases in the whole of 2017.
Out of the total of 649 turncoat politicians, there were 294 cases of switching to SNS, 33 from SNS to some other party, while 328 switched between other parties or became independent. The numbers add up to more than 649 politicians because a few switched party more than once.
According to CRTA's research, there were 232 switches from parties that were in power to another party in power, for example, within a coalition.
Meanwhile, 185 councillors switched from parties in opposition to the party in government, and 42 councillors went in the opposite direction. There were 122 cases of switching from one opposition party to another opposition party.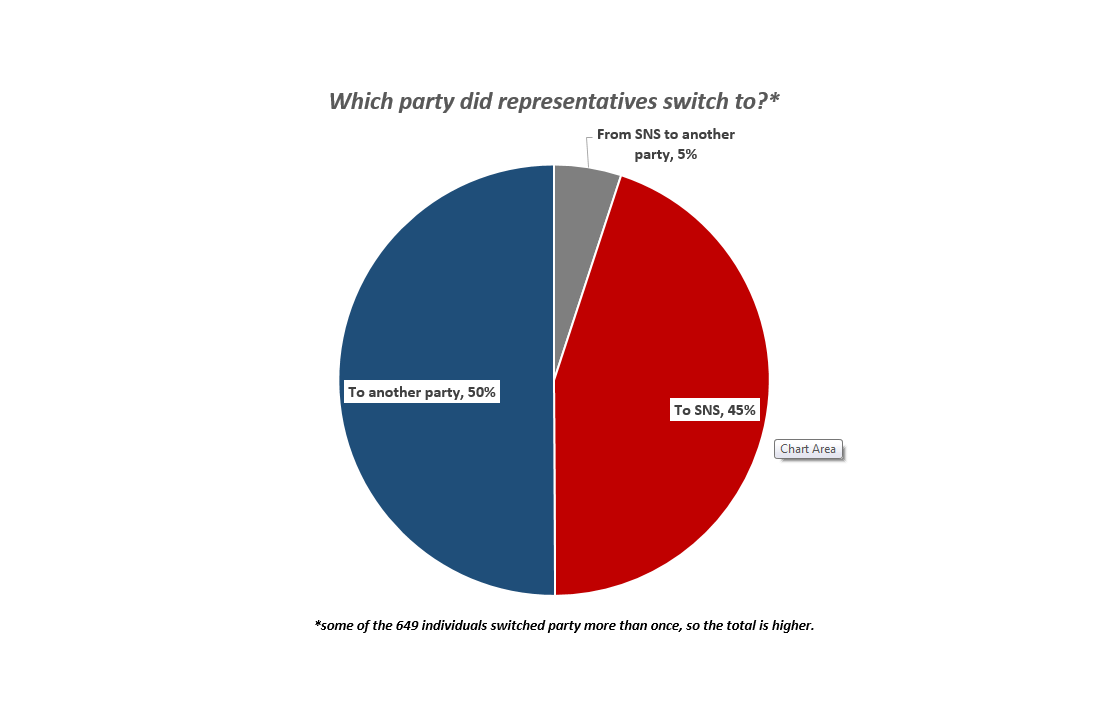 The ruling SNS party was the destination for about 45 per cent of turncoats in this period.
There were also many councillors who simply left their party or the "list" they had been elected through, but kept their seat and carried on as independents. There are currently 101 of these.
Currently, the Serbian cities and municipalities with the most turncoat politicians are: Topola (25), Brus (22), Zajecar (21), Pancevo (20), as well as the Stari Grad municipality in Serbia's capital Belgrade, where 22 DSS councillors switched to the "Marko Bastac" local grouping.
Electoral Will, or Won't?
Switching from one party to another is problematic primarily because elected representatives are explicitly thwarting the electoral will of citizens.
CRTA's position is: "If you have been given voters' trust, you must be accountable and use your vote as voters indicated by giving you their mandate; in other words, do what you advocated during the campaign; do what you said you would do."
However, councillors often fail to follow through with what they said and promised during the election campaign.
Many believe that it is Serbia's electoral system, above all, that enables turncoat politicians to disrespect the will of the electorate.
"The Government will not change the electoral rules by itself. Citizens must demand their own MPs, their own councillors, and this is only possible by changing the electoral system and voting for specific individuals. Today, everyone hides behind the name of the party leader."
That was was the ringing conclusion of the "Who is in Power?" debate in 2017, attended by Mladen Jovanovic of the National Decentralization Coalition, Nenad Stojanovic from Proaktiv, political scientist Vujo Ilic, and Pavle Dimitrijevic of CRTA.
Stojanovic, the political analyst, also believes that the electoral system is most to blame for the large numbers of turncoat politicians,  and told Istinomer that the best solution would be "exclusively voting for the person – by name and surname – so that if a politician does switch party, voters will be able to punish that politician in the next election."
This article was written and translated by Istinomer as part of the Strengthening Independent Media in Europe and Eurasia project.