Tourists from China daily spend up to EUR 1,000
Istinomer Team, May 26, 2019
"Calculate it yourselves, it's like you have 500 people at a daily level who are paying all their expenses and everything else. And now tell me, if we can say that they spend 1,000 euros each, then just calculate how much it is – 500,000 a day. But they still spend somewhat less, so we have to give a bigger offer."
Radio Television of Serbia, 25.04.2019
Aleksandar Vucic, President of Serbia
ISTINOMER'S COMMENT
The President of Serbia Aleksandar Vucic visited China in late April and met with Chinese President Xi Jinping on that occasion. In addition to receiving the famous "half-hug" from him, Vucic talked boastingly as regards several pieces of "semi-information" during his address to journalists in Beijing.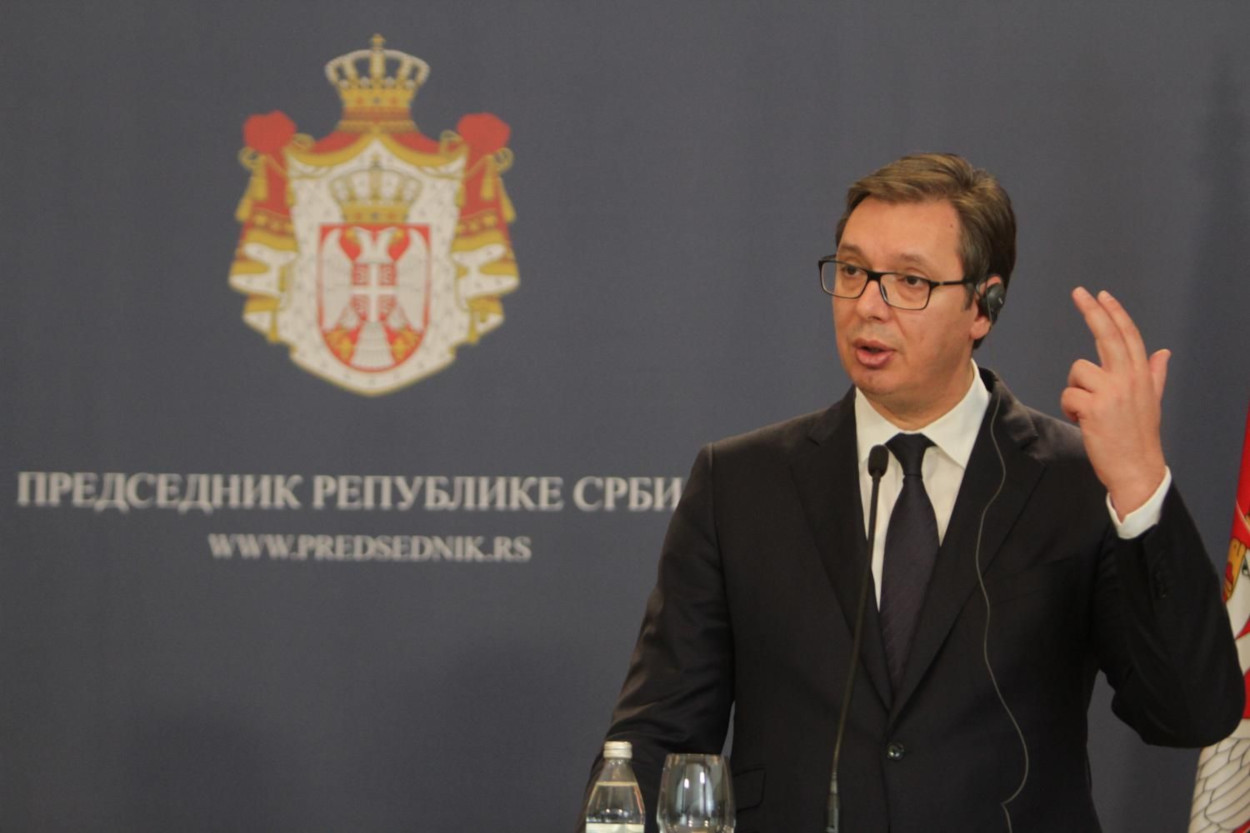 Namely, commenting on the increase in the visits of Chinese tourists to Serbia, Vucic reminded that in 2018 our country hosted a much larger number of Chinese than the year before, confirming his claims with statistics.
"We had 103,000 tourists in 2018, the year before we had 53,000 tourists. And this year we have a new growth of 17-18 % in the first two months," Vucic said.
The President then performed mathematical calculations as well.
"Calculate it yourselves, it's like you have 500 people at a daily level who are paying all their expenses and everything else. And now tell me, if we can say that they spend 1,000 euros, then just calculate how much it is – 500,000 a day", said Vucic and added that "they still spend somewhat less, so we have to give a bigger offer."
Judging by his calculation, the inhabitants of Serbia do not have to worry at all about the huge amounts of money that the Government allocates for various projects, presenting them as tourist attractions. For example, in only thirty days of Chinese tourists visiting, the state budget increases for EUR 15 million, which is the amount needed for the planned construction of a gondola on Kalemegdan. Following the same logic, only 83 Chinese tourists can pay off the famous Christmas tree for one afternoon, which cost citizens EUR 83,000. Or, in just three and a half days, not to say three days and one "half-day", a fountain on Slavija can be paid off.
Is this really the case?
We asked the Tourist Organization of Serbia (TOS) how much on average a Chinese tourist spends during one day of his or her visit to Serbia. The representative of TOS in charge of the Chinese market, Aneta Uskokovic, did not, however, provide a precise answer.
"We assume that they spend a lot, but we do not have the exact data how much it is. We can only speculate about it, but these are internal, informal estimates," said Uskokovic.
Investigating further, we found an article in the daily newspaper Danas, which states that a Chinese tourist spends on average about 150 euros a day, or between 140 and 180 euros, as the BBC in Serbian wrote in February this year.
Uskokovic said that these data were "probably credible," but she still refrained from making official estimates, since the TOS does not carry out such research.
"Frankly, I would not like to give arbitrary data, especially in front of the company I represent. This is out of context in view of the lack of official statistics dealing with this," said Uskokovic.
We sent a query to the Serbian President's Office, asking where Vucic came up with the information that a Chinese tourist could spend 1,000 euros a day, i.e. whether there is any official research that would indicate the possibility of such a trend of consumption. We did not receive the answer until this text was published.
However, the official data of the National Bank of Serbia contain an estimate of the revenue in millions of euros from tourism from China. Thus, in the past year – 2018, the income stream into the state budget from Chinese tourists amounted to 20 million euros. Given that such an income stream was achieved within 365 days of one year, President Vucic's estimate shows that the same consumption of Chinese tourists could be achieved in only 40 days.
TOURISTS FROM CHINA IN SERBIA, ARRIVALS, OVERNIGHT STAYS AND FOREIGN-EXCHANGE INFLOW, BY MONTHS IN 2018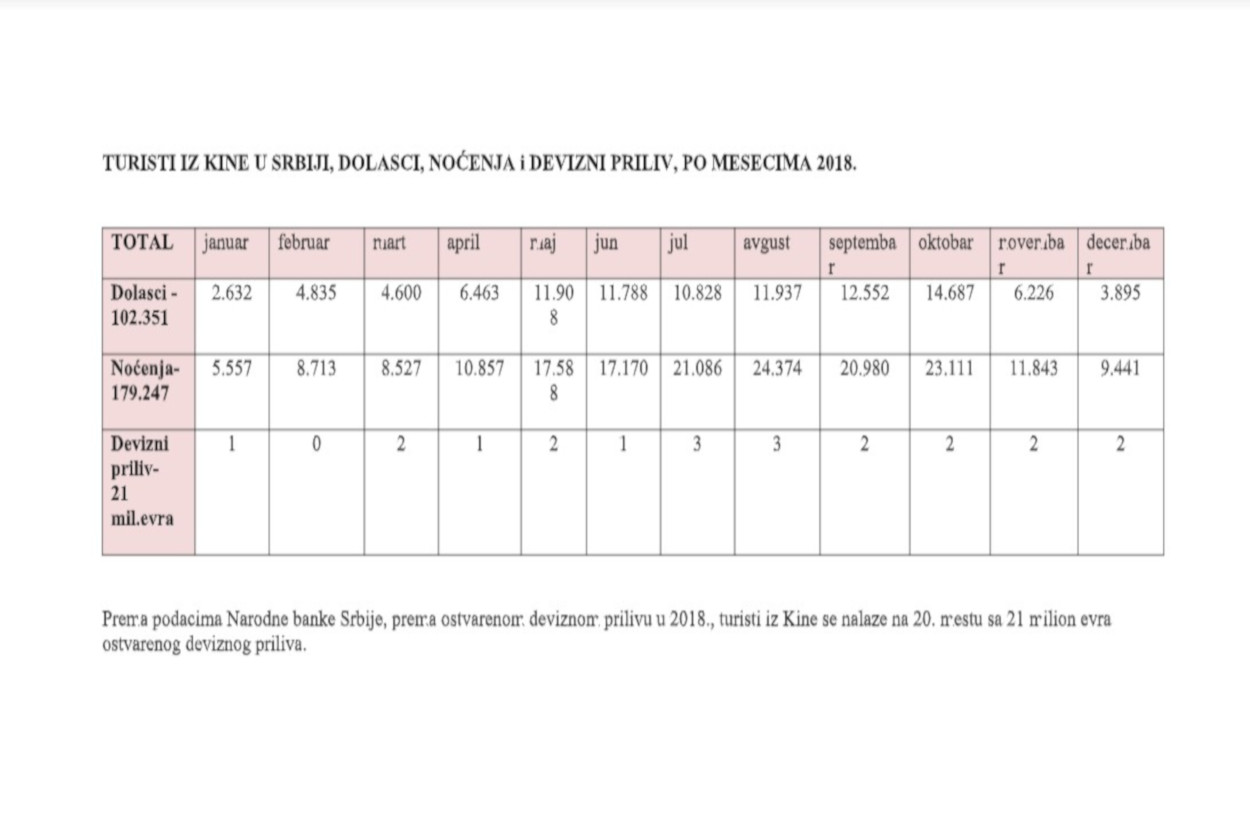 According to data of the National Bank of Serbia, when it comes to the foreign-exchange inflow in 2018, Chinese tourists are on the 20th place with EUR 21 million
Data submitted by the TOS
Furthermore, the data from the Statistical Office of the Republic of Serbia (RZS) show that a total of 102,351 Chinese tourists visited Serbia in 2018, with 179,247 overnight stays recorded for the same period of time. If we divide the total income of 20 million euros with the total number of Chinese tourists, we come to the conclusion that in 2018, every Chinese tourist spent about 195.4 euros during his or her entire stay in Serbia.
However, it still does not show us how much a Chinese tourist spends a day. With the data provided by the TOS that during 2018 Chinese tourists stayed on average for 1.8 days in Serbia, we get a more accurate estimate.
So, a simple calculation shows that last year a Chinese tourist spent an average of about 108.5 euros a day, which is even nine times less than Vucic's 1,000 euros. To be more precise, Vucic did say that Chinese tourists "still spend somewhat less," but that "somewhat less" is actually but nine times less than the figure quoted by the President. Therefore, because he said that Chinese tourists can spend up to 1,000 euros a day, Aleksandar Vucic's statement was evaluated as "pants on fire".
Besides, this is not the first time that President Vucic failed with the estimates when it comes to Chinese tourists. Thus, in December 2016, he promised that in 2017, Serbia would be visited by half a million Chinese tourists, and Istinomer evaluated this promise as "promise broken", since that year, the exact number of 51,691 Chinese tourists visited Serbia, which is 10 times less than what Vucic announced.