Istinomer among Facebook partners in fighting disinformation
Istinomer Team, July 30, 2020
As of today, Istinomer and Agence France Presse (AFP) are the Facebook's official partners for Serbia in fighting disinformation on this social network. Istinomer will fact-check the content and scan false information in the Serbian language shared on this platform on a daily basis.
As part of Facebook's fight against misinformation, this company partners with independent, third-party fact-checkers around the world, who review and rate the accuracy of content.  Also today Facebook is launching the program in Bosnia and Herzegovina, Montenegro, and North Macedonia, as well as expanding in Croatia. All its partners are certified through the non-partisan International Fact-Checking Network. 
"CRTA is Centre for research transparency and accountability, which is an independent, non-partisan civil society organisation, committed to developing democratic culture and civic activism. One of it's department Istinomer (Truth-o-Meter)  is the first fact-check medium in the Balkan region, which deals with verification of facts as those we get from the media, social networks or political actors and public officials and politicians. Istinomer was created ten years ago, and we've been fighting for the truth for more than ten years now", said Milena Popović, Editor-In-Chief of Istinomer.
When a fact-checker rates a story as false, Facebook shows it lower in News Feed, significantly reducing its distribution. This stops the hoax from spreading and reduces the number of people who see it. Pages and domains that repeatedly share false news will also see their distribution reduced and their ability to monetize and advertise removed. And when a post has been marked as false, Facebook warns people who see the post or try to share the post that it has been marked as false.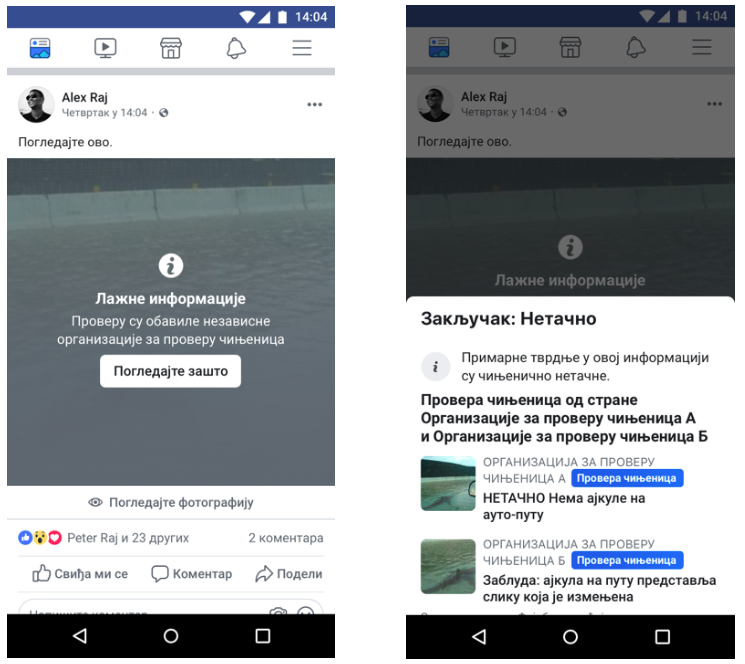 "We're happy to launch our third-party fact-checking program in Serbia with Istinomer and AFP. Fighting false news is a responsibility we take seriously, that's why we are constantly working on ways to help stop the spread of misinformation on our platform", said Sophie Eyears, Strategic Partner Development Manager at Facebook.
This program is in line with Facebook's three-part framework to improve the quality and authenticity of stories in the News Feed, wherein Facebook removes accounts and content that violate its Community Standards or ad policies, reduces the distribution of false news and inauthentic content like clickbait, and informs people by giving them more context on the posts they see.
"We're delighted to extend our global partnership with Facebook in the fight against misinformation. The opening of our new operation in Bosnia, Croatia, Montenegro & Serbia is testament to the important role that AFP plays as a go-to media in this domain. With more than 80 expert journalists deployed in 37 countries, we benefit from the largest network in the world of journalists dedicated to digital verification, verifying and demystifying false information spread online",  said Christine Buhagiar, Regional Director of AFP for Europe.
Today, Facebook has over 70 partners fact-checking content in over 50 languages globally.