Snowden from "Krušik"
Milena Popovic, December 27, 2019
"When you see photographs of civilians and children killed, and you get interested in the topic of Yemen or Syria and in what is going on there, when you understand all this, you ask yourself – is it possible that weapons from your factory are on those fronts? Does that really have to come from my factory? This kind of a wake-up call when you realise that weapons manufactured in the factory I work in are used to kill children, is one of the reasons why I don't want to give up."
This is how Aleksandar Obradović, an employee of the "Krušik" munitions plant described in an interview given to Truth-o-Meter from his house arrest some of the motives that had incited him to give to the public and to the investigative media in Serbia and Bulgaria information stating that Serbian Minister of Interior Nebojša Stefanović's father was involved in the purchase of munitions and corruption in his company. 
Obradović spent three months under house arrest. He was released on December 18th, following a decision made by the Higher Court in Belgrade. He was arrested on September 18th at his workplace on suspicion of disclosing business secrets about the weapons exportations. 
The public in Serbia knew nothing about Obradović's arrest and detention as they were kept secret for some 20 days before the weekly NIN published mid-October that he had been under arrest for twenty days. After this news, sharp reactions and civil protests followed, and he was soon transferred to home confinement.
The Government representatives dubbed him a spy and accused him of inflicting damage not only to the company "Krušik", but also to the entire Serbian defence industry, by disclosing information on arms exportations that, as we have learned, end up in the hands of terrorists. According to them, the Serbian opposition is standing behind these allegations. 
The president Aleksandar Vučić said that "it was a made-up affair, that the opposition was campaigning brutally against the people in power and that one of such cases is a whistle-blower from "Krušik" munitions plant." 
He dismissed any connection between his Minister and vice-president of the party Nebojša Stefanović, his father and any suspicious business whatsoever, thus sending a message to the prosecution in which direction they should not investigate. 
At the same time, the Serbian Ministry of Defence said that "Obradović's allegations of business misconduct in 'Krušik' were inaccurate and malicious and aimed at harassing the public and helping foreign competition remove 'Krušik' from the scene and take its place in the world market ".
First findings from September 2018. 
The investigative portal BIRN (Balkan Investigative Journalist Network) first wrote about the involvement of Serbian Minister of Interior Nebojša Stefanović's father in the weapons trade in November 2018. 
The BIRN journalists actually found out that Branko Stefanović mediated the deal on weapons sale between the "Krušik" munitions plant in Valjevo and customers from Saudi Arabia. 
They found the documents proving that Stefanović attended a meeting held in Krušik in May 2017 as one of the three representatives of the company GIM, which, according to BIRN, had become that year "an important player in the field of ammunition" although it had traded military equipment for years.
The said meeting was attended not only by three representatives of the company GIM, but also by three representatives of a Saudi company who came to "Krušik" to inspect the weapons that they would purchase.
In the course of 2018, GIM bought from "Krušik" military ammunition worth 43 million dollars, mainly mortar shells and hand grenades and all ammunition ended up in Saudi Arabia. This Middle Eastern kingdom has, since 2015, been waging war against Yemen, a country that years of destruction have brought to the worst humanitarian catastrophe in the world, according to the UN dramatic warning. 
BIRN has established that GIM purchased weapons at cheaper prices than other customers – so the price of one 60mm GIM mine is 47 dollars, while the largest state-owned arms dealer Yugoimport has to pay 52 dollars.
The financial statements of the company GIM show just how lucrative this trade is. As a matter of fact, according to BIRN, revenues increased from about forty million dinars in 2016 to over a billion in the following year, which coincides with Stefanović's engagement in the Krušik business deals.
In addition to mediating as a representative of GIM in the purchase of weapons, Stefanović is linked to the GIM owner Goran Todorović through two other companies – they "held" one together until 2018 when Todorović left whilst they are still co-owners of the second.
Although these are serious allegations, BIRN reports, however, did not have much resonance with the Serbian public, and none of the officials, including Nebojša Stefanović himself, publicly addressed the allegations. 
International echoes
The story of the Krušik's business and the involvement of the Minister of Interior's father in the arms trade was actualised by the Bulgarian specialised website "Arms Watch" and a journalist Diljana Gaytandzhieva in September 2019, after which Obradović was arrested. 
According to this portal, a part of the Krušik's weapons exported by GIM to the Saudi Ministry of Defence ended up in the hands of terrorists.
"Serbian mortar shells manufactured by the Serbian state-owned arms factory Krušik can often be seen in the hands of Islamic State terrorists.", says "Arms Watch".
While independent media were publishing the documents, the Security Intelligence Agency of Serbia revealed that Aleksandar Obradović, a forty-year-old IT engineer working in the very factory was giving away information to BIRN and "Arms Watch" journalists. Instead of investigating suspicious deals and ties to the top of the state, they arrested the whistle-blower.
In an interview for the Truth-o-Meter, Obradović said that he had begun investigating operations of his company in 2014, but that in 2017 he had actively started gathering information and documents in order to support his allegations. He worked as a production organiser in the missiles plant and he was, therefore, able to see a lot of documents regarding the economics operations of the factory.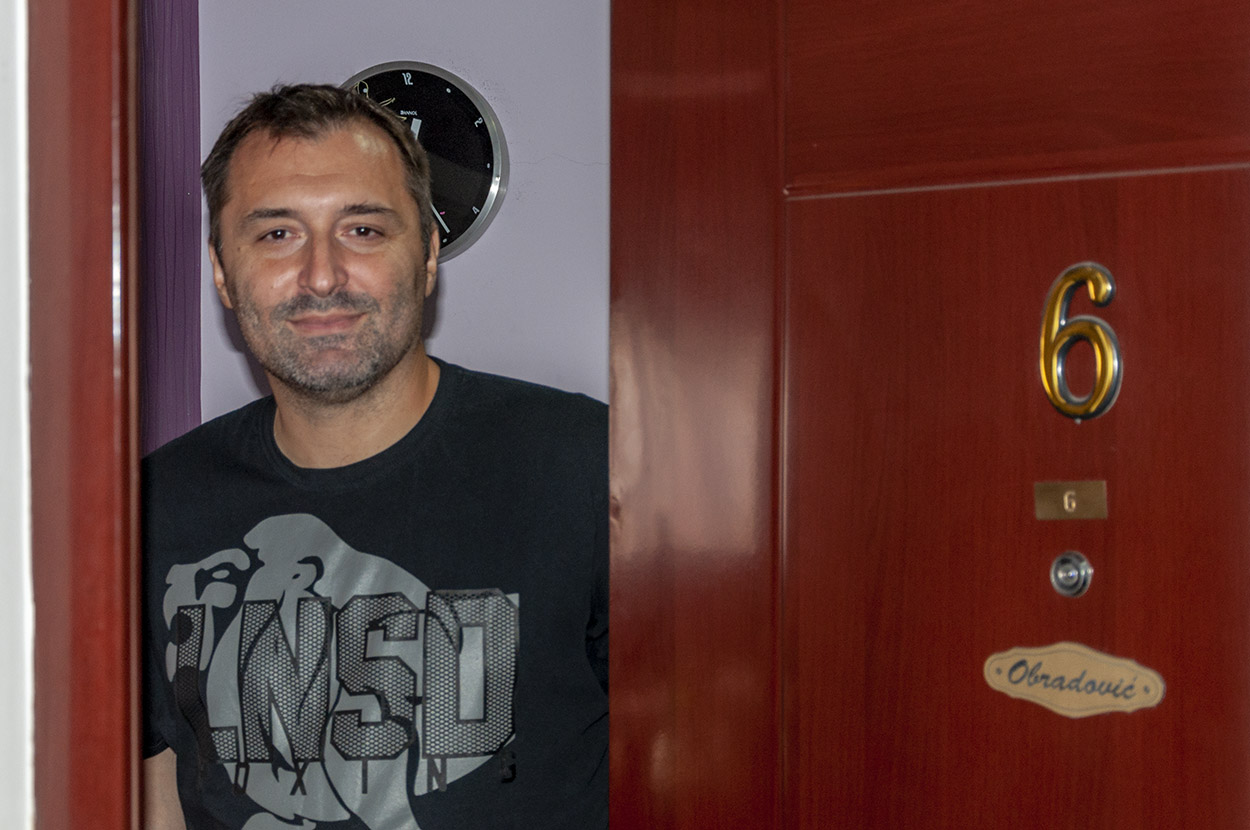 "When in January 2017, I was transferred to a position of production organiser in the missiles plant, to put it simply, I was involved in a project "Technology transfer of the missile system 'Malyutka' in Vietnam". One of my responsibilities was to work on the technical documentation. I had over 2.5 million euros in my hands. If my goal had been money, material gain or any of that, I would have used it. No document that related to my job ended up with any investigative journalist or anyone else. My office was filled with such technological documentation, how to assemble a grenade, etc. I wasn't interested in any of that. I didn't divulge anything to anyone, said Obradović. 
He first informed the Supervisory Board of the Ministry of Finance about his findings and then wrote to Aleksandar Vučić who was Prime Minister at the time. Given that the authorities remained silent on the warnings, Obradović addressed the investigative media, first from Serbia and then from Bulgaria.
Reacting to these allegations, Minister Stefanović said that it was a made-up affair aimed at inflicting harm to him and to his family.
The story of corruption and suspected arms exportations from "Krušik" was accompanied by false statements given by the President and the Minister of Interior about his father's relationship with GIM. 
Although Stefanović and Vučić claimed that Branko Stefanović (Minister Stefanović's father) did not have any relations with the company GIM, the investigative portal BIRN presented new evidence on their business ties. 
Continuing their investigations, the BIRN journalists came across a datum that Branko Stefanović had travelled to Saudi Arabia in 2018, in capacity of the legal advisor of the company GIM. At the beginning of December, they published visas where Branko Stefanović's function "legal advisor" was clearly visible. 
Furthermore, they discovered that in May 2019, the Minister of Interior's father Branko Stefanović had visited an Italian munitions plant "Beretta" together with a delegation from the Serbian Ministry of Interior. 
When their argument that Branko Sefanović did not have any ties with GIM was dismissed on the basis of the document, the highest representatives of the Government responded to journalists' questions about this case with a contra-question – "What exactly is the criminal offence here?".
Whether Aleksandar Obradović's accusations are a crime and in which segment precisely, should be answered by the Prosecutor's Office for Organised Crime. The institution, however, spoke about this case only once, in mid-November, when it asked security agencies to determine whether private companies, including GIM, had a privileged position when purchasing weapons in "Krušik". 
We still do not know whether the case has been investigated by security agencies, but we do know that the Anti-Corruption Agency established, despite the evidence, that there had been no conflicts of interest because the Minister's father was not engaged in the company GIM. This statement only seemingly denied the investigations of journalists. However, it appears that this assessment by the Agency has no legal implications and their announcement does not prevent other institutions from handling the same case. However, without looking at the decision, it is not clear which data was exactly taken into account and when.