Election campaign: buying votes for RSD 2,000, a stove, TV set or something else
Mihaela Šljukić Bandović, March 23, 2022
Ten days before the parliamentary, local and presidential elections, the results are discouraging. So far in the election campaign, the pressure on employees in the public sector has intensified, particularly on the Roma to vote or ensure the vote for the political party. Pressure is exercised exclusively by the parties in power and state institutions, and votes are purchased by money, white goods and firewood, as the CRTA observation mission concluded by observing the first part of the election campaign. We reveal what CRTA learned from victims and witnesses of illegal influence on the voters' choice.
Educational worker: "They wanted me to go to the SNS rally. No one threatened or ordered anything specific, they just asked you – can you do it or not. Personally, I would not suffer any consequences, but my wife would. No one threatens you directly, but they say – "Come on, you should do it".

City administration clerk, woman: "So, there is a list, someone just comes into your office and says – "Tomorrow at 5 a.m. you are going to the bus station, there and there. How can you say NO then?"

City administration clerk, man: "When we entered the bus, one man entered and took photos of all of us, posted the photo on each of the buses, so it will be obvious who was in which bus. It's a system really, not naïve at all".

City administration clerk, woman: "You would get a call from your boss then – 'Listen, you have to collect 20 capillary votes". (…) They are doing that to keep their positions, we are doing it for them, and their bosses, so it's a chain reaction".

Health care worker: "I came to the parking lot, waiting for my colleague so we could go home, and a young man approached me, saying – 'I am waiting for them to pick me up, so I would go collect votes for the party, they are blackmailing me, they won't extend my contract if I don't work for the party, every day I have to go to the SNS'. He also said: "I will do that until I get permanent employment, but then I won't go to the meetings. They did help me, who would give me the job if not the party'".

Local parliament councillor: "I have done 1,500 capillary votes out of my personal conviction because I have the mandate to go with anyone".
***
These are some of the testimonies from almost 60 interviews that the CRTA observation mission carried out with the participation of citizens since November last year when the field observation of the pre-election atmosphere commenced. Since then, in addition to promotional activities of the political parties, CRTA observers have reported daily on potential abuse and illegal actions – from abuse of public resources, public office and work of institutions to pressure on voters, political affairs and buying votes.
If you vote, you get the job, if not, you get fired
The conclusions CRTA made were that most pressures occur on the job. The most vulnerable ones are the employees in the public sector, the citizens who are members of the ruling party, as they either got the job through the party or have fixed-term employment.
Suppose they succumb to the political pressure and do what they are asked to. In that case, they will get some benefit in return – employment or simply keeping their job, career advancement or climbing up the party ladder, extension of the contract, etc. However, suppose they ignore the pressure and decline the requests. In that case, they will be punished by either losing their job, getting transferred to another or lower position, having a salary cut, increased
workload, inability to advance in their career, and others.
There is election violence against vulnerable, minority groups and those at social risk, youth without employment, but also members or supporters of opposition parties, activists of civil society organisations, independent journalists, private company owners, but often friends, neighbours and members of some people's families who are marked as disobedient and disloyal or they have demonstrated some form of resistance.
Two thousand dinars, TV sets, fridge and stove in exchange for a vote
During the observation of the first part of the election campaign, it turned out that out of the total number of all political activities, even 10 per cent included indications of vote-buying. The usual targets for vote-buying are retired people, farmers, Roma, social assistance beneficiaries and other groups at social risk, who, in exchange for a vote, were offered money, employment, groceries packages, white goods, firewood, legalisation of illegally constructed buildings, social housing and repairing of residential buildings.
However, the highest pressure is on Roma, and CRTA interviewees believed that pressure on Roma was even more intense and aggressive now than before. Usually, it is exercised indirectly, through a person who is also a member of the Roma community, by intimidation, rewards, threats and blackmails even physical endangerment. The safe vote is paid RSD 2,000, and the person collecting safe votes gets half of that, said the witnesses CRTA had interviewed.
"There is a guy there, some person in charge from the Roma settlement, who is a contact person for specific political parties, in this case, SNS. This man gets the money, a specific amount of money paid in cash. This is only an example, don' take my word for it, he gets, let's say RSD 2,000, he will give people 1,000, maybe 1,200, keeping the rest for himself, so he earns double – once directly from the political party, by working for them, once by taking it from
people. Those people wait in front of the polling stations and request to see proof of safe votes immediately. The proof is taking a photo or the system of the Bulgarian train. So, he is waiting for those people on sight".
In some cases, the Roma IDs are seized several weeks before the election, only to be returned on the voting day, in front of the polling station, so on the voting day, unknown people would enter Roma settlements by car, examining who did not vote yet, offering money and driving voters to polling stations".
The pressure on Roma exercised by city authorities and members of the ruling party to distribute humanitarian packages or assistance in infrastructure works has also been reported, followed by SNS activists coming to "remind" citizens to vote, even taking them to the polling stations.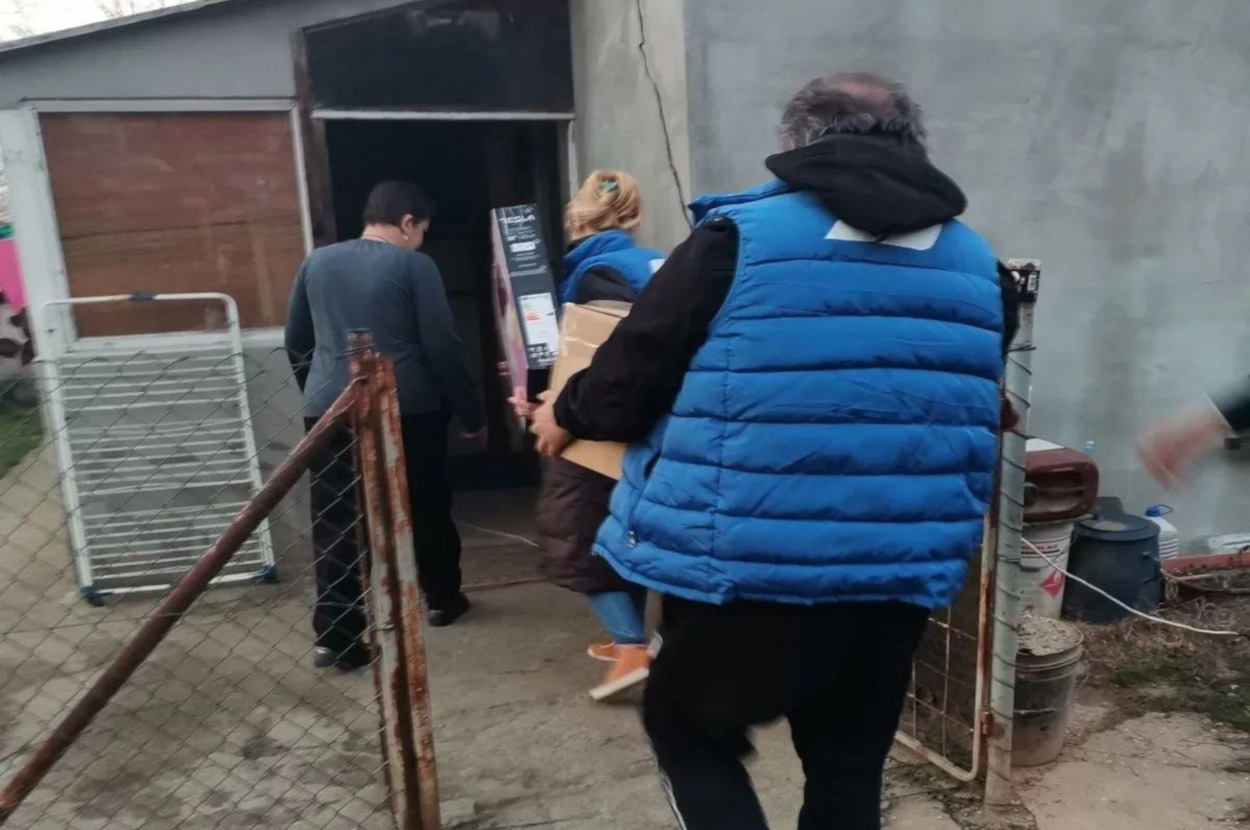 No safe vote – no social assistance
It is especially worrying that CRTA indicated the witnesses' allegations using the lists from departments for social services, i.e. allegations that political parties abuse data on the social assistance beneficiaries. A former member of one Roma settlement described how the departments for social services staff exercise pressure on the Roma:
"They even go so far that departments for social services blackmail Roma in providing safe vote, in this case to SNS, otherwise, they would lose their right to social assistance. Social service workers remind their clients to vote for a specific party because they will lose social assistance if they don't. They are all related to coordinators, who operate in a chain – some person X says to person Y for whom they voted for. Then they can go to Department for Social Services and say, 'John voted for this party and this candidate'."
Such and other testimonies CRTA collected indicate that pressure on voters is so widespread that this became almost the main characteristic of political culture in Serbia and the template political parties use to communicate with the citizens, said Marija Stefanović from CRTA for Istinomer.
"It is particularly discouraging that citizens are used to pressuring against them, in both business and private sphere, and accept it as an integral part of every election campaign. However, citizens, especially employees from the public sector and those from minority groups who are at social risk, suffer the biggest pressure, feeling both scared and helpless since they cannot report the pressures they suffered to anyone, or they fear that the authorities would fail to react adequately even if they had dared to report it", emphasised Stefanović.
The lack of citizens' trust in institutions is not unfounded, proven by the fact that so far, no one was held accountable for the cases of abuse that CRTA recorded and reported during previous elections.
CRTA observation mission invited the competent institutions to investigate the allegations of the pressure on voters and other cases of election corruption and to sanction and prevent institutional abuse and endangerment of human rights.