TV Pink's new shows – what are the limits of parody?
Tijana Đorđević, August 17, 2023
Announced on Instagram and Twitter, promoted in the central news, TV Pink owner's new format uses artificial intelligence (AI) to convey to its followers and viewers something which the opposition politicians – did not say. Under the guise of humor, explained as an "entertainment-like satirical format", Mitrović made use of Marinika Tepić, Dragan Đilas, Vuk Jeremić and Boris Tadić's guest appearances on other television shows, altered their sentences and voice and presented it to the public as a "witty portrayal of the Serbian reality". Istinomer's interlocutors see in Mitrović's humor a misuse of new technologies, an intention to ridicule certain individuals, something which can mislead audiences.
As one of "a dozen new original television projects", the owner of Pink, Željko Mitrović, announced on his Instagram account a format called "Žeks' antics", that is, "SSSS (The Funny Side of Serbian Unity). That announcement, which also reached TV Pink's central news, was accompanied by a video sequence featuring the guest appearance of the Vice-President of the Party of Freedom and Justice, Marinika Tepić, on the Impression of the Week (Utisak nedelje on Nova S) show. With the help of an AI tool, the video was accompanied by Tepić's altered voice and sentences not uttered by Tepić during this guest appearance.
In an Instagram post, Mitrović stated: "All events and content are fictional, so there should be no anger."
View this post on Instagram
The MP of the ruling Serbian Progressive Party (SNS), Nebojša Bakarec, posted Pink's video on his YouTube channel, however, he failed to state it was a fictional event. Probably in an attempt to be humorous (without any indication that it is humorous content), he shared the content with the changed voice of the opposition politician on his Twitter account and wrote that "Marinika Tepić is being honest for the first time".
The announcement was followed by the first episode, in which Mitrović's "entertainment-like satirical" format changed its name from "Žeks' Antics" to "Man, Don't Be Angry" (the Serbian title for the Parchís game). The man, who probably shouldn't be angry, this time around was the leader of the Party of Freedom and Justice, Dragan Đilas, who says in the Pink owner's montage:
"Crazy Žeks is coming for us again, and I told my drunken lunatics not to mention Žeks at the protests, but it's not worth it – they don't understand anything. (…) Lutovac and Aleksić – one does not know where he is, the other does not know who he is. (…) Only Ponoš would have been useful to me, but I ran out of luck because the elections are in Serbia, not in Croatia."
In the second episode, the President of the People's Party, Vuk Jeremić, appeared. Through Mitrović's "format", created with the help of AI, Jeremić said, among other things:
"I'm cut in half and now I'm waiting for the elections, I don't even know where I'm going or who I'm going with. What should I do? What can you do? We're going to the elections, and we will see what God and Vučić give us."
Misuse or humor?
Istinomer's interlocutors, on the one hand, see Mitrović's latest work a "misuse of new technology", and on the other, a "parody", which should be presented with certain disclaimers, so as not to mislead viewers.
In an interview for Istinomer, journalist Tamara Skrozza assesses that Željko Mitrović is actually performing in an "empty space" with this new format, in which "there just isn't anything yet" because we are facing a completely new technology.
"What I can say, however, is that this new technology is being misused for what Željko Mitrović normally does, which is targeting, defaming and discrediting Aleksandar Vučić's political opponents. So it is the misuse of a new technology with an old goal. Željko Mitrović has previously produced so-called montages of documentary materials, which he found on the Internet and in the archives. When someone speaks, he takes it out of context, rearranges it and puts in its place a completely different narrative than what was said," says Istinomer's interlocutor, noting that because it was already broadcast on TV Pink, "there isn't anything that we haven't seen before, except that new technology is now being used".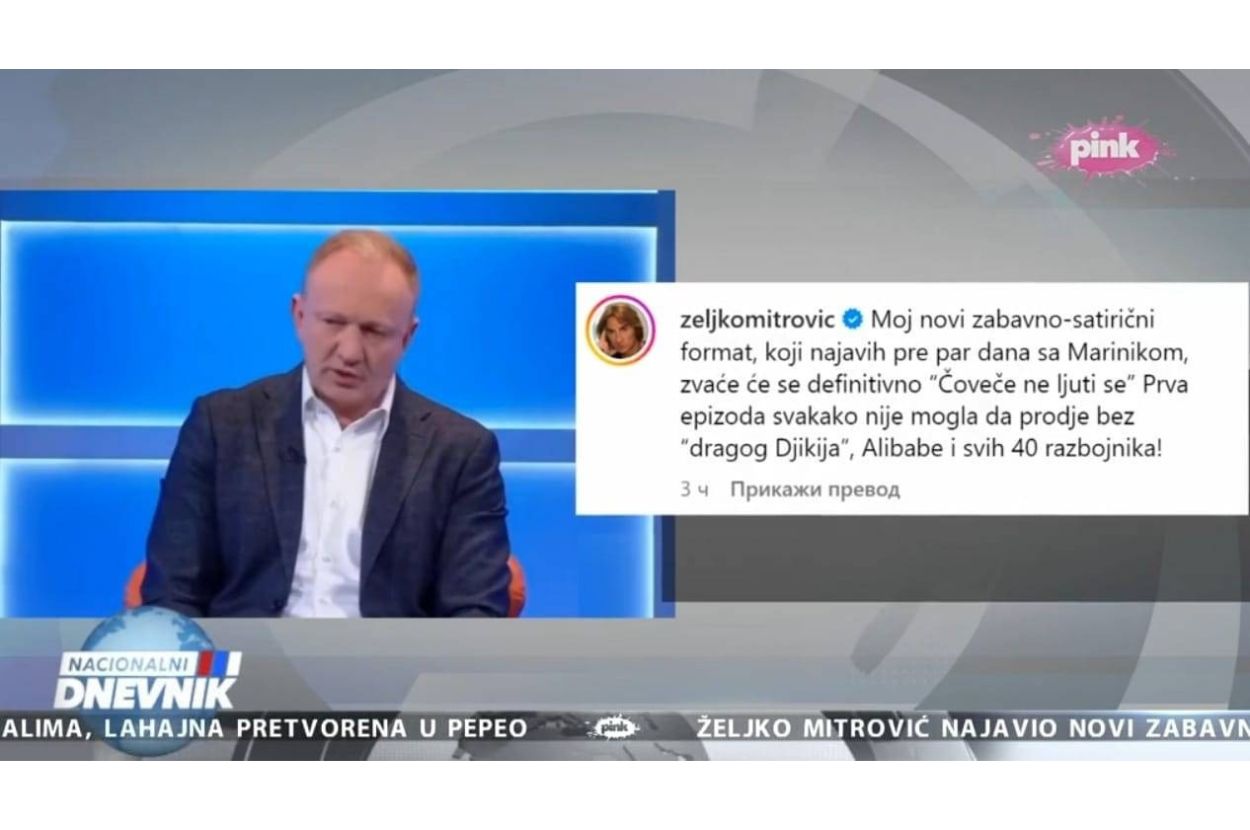 Skrozza also states that she is not aware of how the media profession, both at the level of Serbia and globally, will deal with the ethical use of AI.
"How and whether those red lines will be set, in relation to how far this is allowed to go, is it allowed to be done at all, bearing in mind that we are deceiving our viewers, readers, because someone who possesses average media literacy skills will hardly be able to understand at 'first glance' what it is all about", adds our interlocutor.
She also points out that the Regulatory Authority for Electronic Media (REM) would be responsible for assessing such programs being broadcast, but that the REM did not react in previous cases when it came to Pink.
 SSP: Mitrović showed how the government will misuse AI

After the announcement and the first episodes of Mitrović's format "Man, don't be angry", the Party of Freedom and Justice stated in a statement that the "chief propagandist" of the Serbian President Aleksandar Vučić and the owner of TV Pink, Željko Mitrović, "showed how the government will misuse AI in order to confront political opponents".

"Even if Mitrović tries to hide behind the announcement of an 'entertainment-like satirical format' and that 'all events and content are fictional', they were prepared in such a way that the faces, voice and pronunciation were completely equated with the authentic, so in that way Mitrović caused confusion among the viewers, deceived them and intentionally created the image that these depictions of Đilas and Tepić are authentic", assessed, among other things, the Party of Freedom and Justice in a statement reported by the portal of the daily newspaper Danas.
CRTA's legal expert Vladana Jaraković, in an interview for Istinomer, also examines the fact that Mitrović's new project reached viewers through a central news show. She especially emphasizes that when informing the public, the media service provider is obliged to ensure objectivity that is suitable, among other things, to the nature of the content in the program in which the information is published.
"The demand for objectivity is, quite understandably, more pronounced in informative than in other types of programs. The way in which the contributions were presented – and they were shown in their entirety (unaltered) from Mitrović's profiles on social networks, cannot be considered as reporting on an event that is completely irrelevant for the public, such as the activity of Željko Mitrović on a social network. The articles are shown with the undisguised intention of mocking certain personalities, while we must bear in mind that the news program is not a platform for marketing of what Mitrović calls satirical content, nor is a central news show a format in which there is room for manipulating statements and showing malicious montages," Jaraković explains for Istinomer.
She adds that, bearing in mind the format in which they were shown, it cannot be ruled out that the shown materials could have misled the viewers regarding the events this information relates to.
"Media service providers are obliged to ensure the objectivity and truthfulness of information, they are obliged to refrain from manipulations, especially in their informational content. They are obliged to do so by the Law on Electronic Media and the Rules on the Protection of Human Rights in the Field of Media Services", says Jaraković and points out that the REM has an official duty to ensure that the media service provider fulfills its obligations.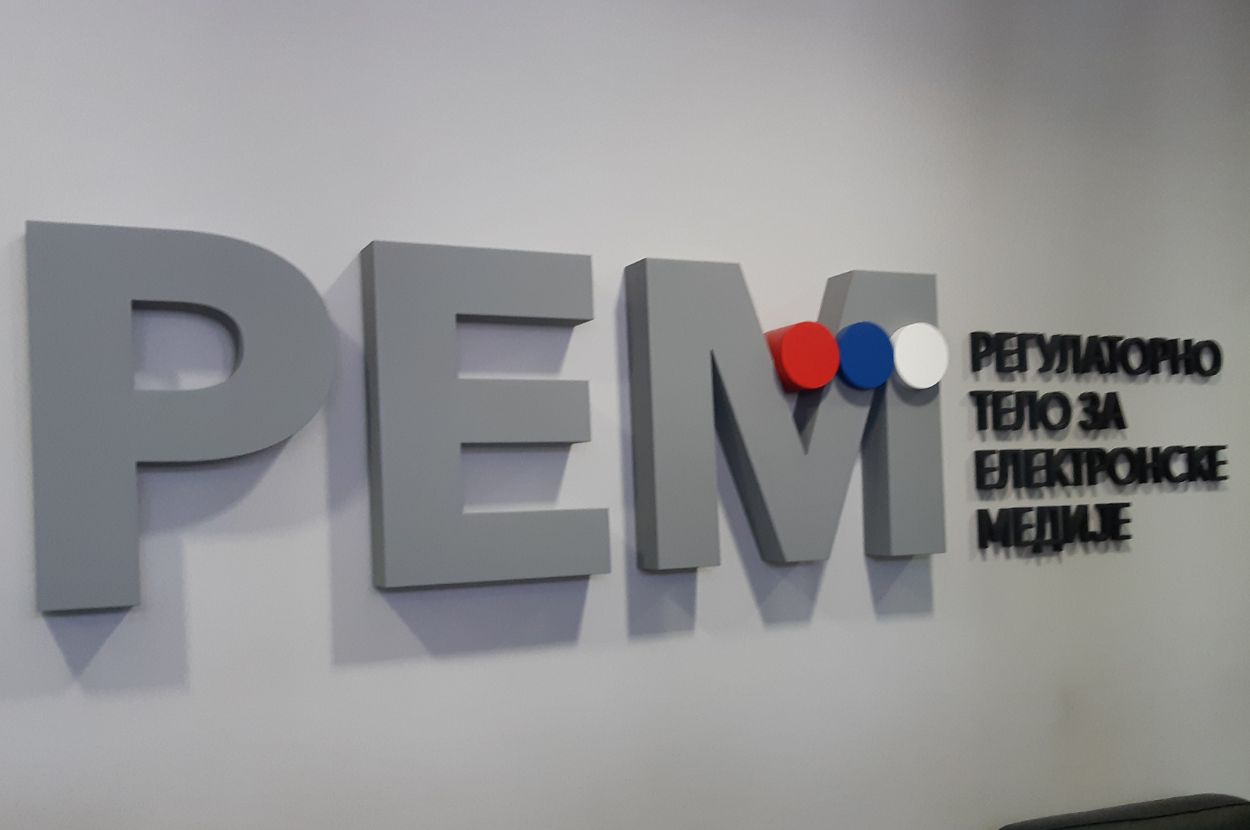 Đorđe Krivokapić from the SHARE Foundation shared his views for Istinomer on the way in which Mitrović made use of AI. His opinion is that this form is not very different from some other cases where other platforms and editing programs were used for the purpose of parody.
"I am of the opinion that the content of parodies is protected by the standards of freedom of expression. AI is just a tool used for humorous effect. The fact that they are public figures reduces the chance that the courts in this case would determine that it is a violation of honor and reputation," explains Krivokapić.
Istinomer's interlocutor, looking at the issue of AI use from a legal point of view, points out that there are still things that the author, that is, the broadcaster, should keep in mind when marketing such content.
"In order for the author and the media to be able to invoke parody as a defense, they must make sure to specify that such content is involved and that the average viewer was not misled by the programme. Therefore, if the context, format and way of labeling clearly indicate that it is a parody based on AI, then it seems to me that the content is within the scope of freedom of expression," emphasizes Krivokapić.
How empty is the "empty space"?
Our interlocutor also referred to the fact that the Serbian Government adopted the Ethical Guidelines for the development, application and use of reliable and responsible AI at the end of March, which, according to Krivokapić, is the first step towards regulating this area.
"The main goal of adopting the Guidelines is not to allow the processes in which the AI system functions to endanger or marginalize people and their actions, and that the freedom of action, opinion and decision-making is not violated to the extent that the rights and assets that preserve these values are rendered meaningless, diminished or forgotten," the guidelines state.
Video manipulations reach everyone 
Humor, if it really exists, is not the only accompanying element of numerous edited recordings that reach viewers and users of social networks. Quite often, very dangerous disinformation is packaged into video manipulations.
That was the case with the edited version of the Vice President of the USA, Kamala Harris's speech. In the description of the video that was shared on Facebook, it was claimed that Harris stated that not only every person who was in the hospital was vaccinated, but also that every person who died in that hospital – was also vaccinated.
However, for those who didn't notice the clumsy editing at first, there's also a White House video in which you can clearly hear what Harris is actually saying, as well as other recordings.
"Literally every person currently in the hospital has not been vaccinated. And more than that. Every person who passed away was not vaccinated," she actually said. 
The conversation between several mayors from European capitals and Vitali Klitschko, that is, someone who looked like Vitali Klitschko, the mayor of Kyiv, is a testament to how far visual deceptions can go.
The mayor of Berlin, Franziska Giffey, was among the misled officials. She spoke via a video conference platform with a person who looked and sounded like her Ukrainian counterpart.
"There was no indication that the video call was not with a real person," her office said in a statement, as reported by the Guardian.